Now that you've seen the film, Reminders on spoilers
1,419 Views
7 Replies
Add A Reply
Forum Topic
Compsognathus
Member
0 XP
Jun-14-2015 9:42 AM
Hey folks, Just a friendly reminder. Now that Jurassic worlds stomped on into theaters, This forum is going to get a bit more trafficed.
With that in mind, You probably all want to talk about the film? Yeah, Probably. So, Feel Free to talk about the movie, But keep in mind that some audiences have yet to see the film. This doesn't mean you need to stop talking about it, Just be sure to Tag Spoilers.
"But what is a spoiler?"
"No, the other spoiler!"
"NO NOT THAT ONE EITHER!"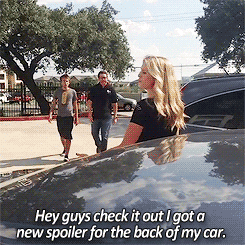 "THAT ONE. Jeez, took you long enough"
Some classic examples of how to tag spoilers:
SPOILERS: 
The fancy but loud style, 
SPOILERS:
The loud style,
SPOILERS:
The Riversong style sweeties (Dr.Who reference guys...)
Spoilers:
Normal joe style,
Just be sure to tag it like that. 
Most of the forum has probably already seen it, But there are people or Velociraptors, Who have yet to see it. Don't be the person who ruins it for others. 
Now, Go onwards and discuss All things Jurassic and Park and Jurassic and World. 
If you have yet to see the movie *Cough* Like myself, Be sure to watch out for spoilers... Or don't... this is the internet, not kindgergarten. be sure to see it in theaters so you can get in on the action while it's hot!
And play nicely.
-Sheriff deputy title giver Paden
Life cannot be contained, it breaks walls, crashes through barriers sometimes painfully, but uh... Life uh, finds a way
7 Responses to Now that you've seen the film, Reminders on spoilers
Add A Reply