With only 4 days left before the official Jurassic World trailer drops online, fans are more eager than ever. As we wait for the official trailer to be released, we'll be sharing some of the incredible fan creations which have made their way online since Jurassic World's announcement. Below is a truly incredible fan-made teaser trailer for Jurassic World from August which was created by Manuel Bejarano on YouTube. The trailer emulates the official artwork by Mark Englert (seen below) and was a great prmotional tool to help get fans hyped up for the film's release next summer. Watch the epic trailer below and be sure to let us know what you thought in the comments section!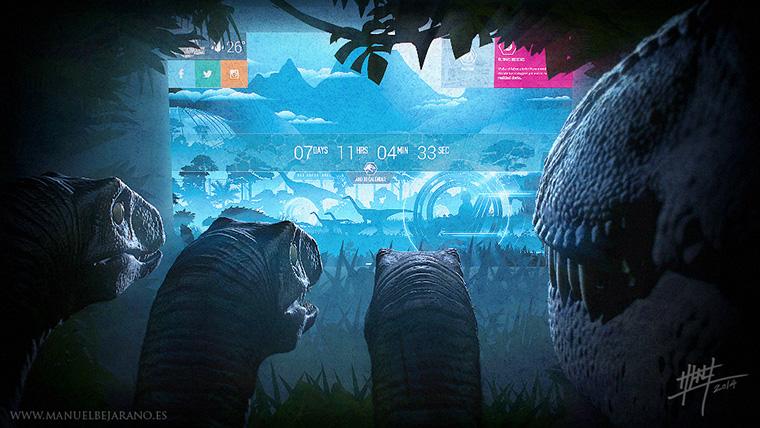 The Jurassic World trailer drops this Thursday! Be sure to watch JurassicWorldNews.com for when its released online!
We also encourage readers to follow Manuel on Twitter to see more of his incredible artwork!
Check back often for more, constant updates on Jurassic World!
Find and share news like this with other Jurassic Park fans in the newly updated Jurassic World Dominion forum! The Jurassic World Dominion forum is an online community dedicated to nothing but Jurassic Park and Jurassic World fan discussions! Don't be a lurker, join the JP fan community today!
Written by Chris
Published on 2014-11-23 00:25:51
Get Your Own Custom Jurassic Park & Jurassic World merchandise!
Excited for Jurassic World Dominion? Why not upgrade your Jurassic collections by adding new, custom clothing, mugs, phone cases and more! Whether you want to represent the Raptor Squad or protect Dinosaur rights, there's more than enough options to choose from in the Jurassic World Merchandise Store! Choose your favorites and order today!
About Jurassic World 3 / Jurassic World Dominion
The official Jurassic World Dominion release date is June 11th, 2021.
Jurassic World Dominion (2021) is the third film in the Universal Pictures Jurassic World movie trilogy and is the sequel to Jurassic World: Fallen Kingdom. For more on Jurassic World Dominion including its plot synopsis, cast and character lineup, trailer and other information, visit the About Jurassic World Dominion movie page!
Stay up to date with the latest news on Colin Trevorrow's Jurassic World Dominion movie by liking us on Facebook and by following us on Twitter and Instagram!