2015 Almost gone, 2016 coming soon.
5,709 Views
4 Replies
Add A Reply
Forum Topic
Compsognathus
Member
30 XP
Dec-30-2015 4:34 PM
Hi guys!
Over here it's the 31st of December, the year is almost up! This year was special to all of us due to multiple films (Jurassic World, Terminator and Star Wars) being released, but too me none other is as important as Jurassic World was.
I have marked this my JW Year. I said at the beginning this whole year will be my 'Jurassic World Experience' (where as others said that only June was, or when it was released on DVD it was over etc.). But now 2015 is almost gone as upsetting as it might be, its over. But now going into 2016, its a whole new experience, new year. So to me this is kinda like the aftermath or legacy. Well thats until JP5/JW2 gets released. 
(I remember I used to always use these in my post (gifs) may as well go out with a BANG!
and use all my favourites!)
Anyway, just wanted to know how everyones year has been and what you might have planned or what other JW/JP/Dinosaur stuff is coming. Well this will be my last post for 2015, it's been a great year, so thanks guys! 
(The unfortunate story of the ACU, my favourite scene from JW!)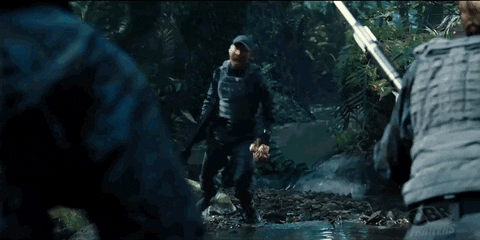 Hope you enjoyed Christmas and I wish you a Happy New Year!
JPCerato
4 Responses to 2015 Almost gone, 2016 coming soon.
Add A Reply