JURASSIC WORLD TOYS TALK
8,046 Views
9 Replies
Add A Reply
Forum Topic
Compsognathus
Member
30 XP
May-01-2015 2:14 AM
Hi guys! I have said this befoe, but i'll make this qucik because I will post something bigger tomorrow.
Some of you may know that I collect JP Toys, as well as other lines...but tomorrow...JURASSIC WORLD TOYS! YAY! :D
I know some thing this a crap, bad etc. however, I have loved everything since day one. I have said I will buy everything, from the regular figures, to LEGO, to Hero Mashers to Plush. I will get it all! MUHAHAHAH!
But yeah the bottom line is, well it started last Sunday night. The weekend ended (dam school was so near) I was searching the Toys R Us online site and found all the wave 1 figures!!!
I know it's May 1st and thats the release dates but this was a week ago. But since the Toys R us near me closed, the other one is on the other side of the city, at least 45 to 60 min drive, so dad said I would have to got on the weekend, well thats tomorrow! It has been a looooong week of school since I was waiting for this.
The online site said it only had the regular figures, so thats what I have planned for,( you guys have no idea what I have planned, I like to be prepared (hundreds of sheets, documents etc.) but It will all be worht it.) I can't wait. I will get the everything, but if they end up having LEGO etc. I will have to adapt. (I also I'm a LEGO collector, I have wanted lego Jurassic Park ever since I was like 3) 
Last but not least I would like to say, the reason I'm so excited for the merchandise is, I was sadly born in 2001, so I have never seen a JP film at the cinemas (beside the 3D release which was great) so this is really big, also 2001 was when the latest JP film came, so I have been waiting for like my whole life practacally...So that means I never experinced the JP toys, (I have bought almost my whole collection of eBay) aside from the small 2009 series which I sadly only bought a few things, or the Gi Joe 20013 stuff which we didn't get, and regret it and JP/// which I was really young for, but got some stuff. 
 Regret not buy this...stupid 10 year old self >:( (JK)
 Or this...
So now you know, hope you can understand my excitement for the toys/merchandise. (I know we all are though XD)
I will post a discussion tomorrow with (hopefully :l) all my stuff!
This what I'm after (or at least what is avalible)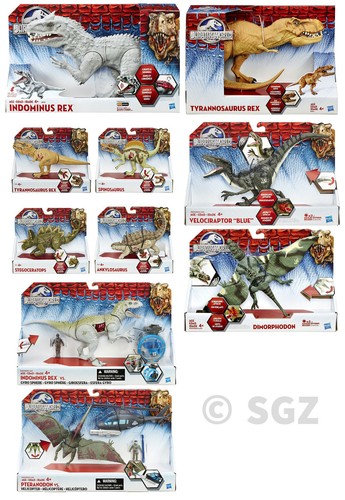 Can't wiat for this!
(Target also says it has the Bad Boy Indominus but that it...so thats Plan B)
Wish me luck!
:D
JPCerato
9 Responses to JURASSIC WORLD TOYS TALK
Add A Reply