Jurassic World 2 to shoot in the streets of London and feature Dinosaurs wrecking havoc on the city? Sounds far fetched, right? We certainly think so, however, after the fourth Jurassic Park film in the series took place yet again on a remote island, the minds behind the future of Universal's new Jurassic World franhcise have decided it's time for these genetically engineered theme park monsters to move beyond the confines of The 5 Deaths. 
In a fresh report from UK based news outlet, The Sun, a source claims that the highly anticipated sequel to last summer's Jurassic World will film in the city of London next year and involve Dinosaurs roaming free, wrecking havoc. Theur report reads:
Location bosses have been secretly scouting areas perfect for the dinosaurs to wreak havoc. A film insider told me: "London is the preferred choice.

"Other locations are being considered but a city as historic as London would look immense on the big screen being destroyed by the dinosaurs."
Whether or not this is true has yet to be clarified by any reputable news source and fans have already taken to Twitter to discuss their lack of enthusiasm for such a plot direction. Although Colin Trevorrow had alluded to the very real possibility that Jurassic World 2 would see the intermingling of Dinosaurs and the Human population - a film in which Dinosaurs are attacking cities in masses seems a bit ridiculous. In The Lost World the concept worked only because the method in which the Rex made its way to the city made sense - and it was only one (not counting the infant) roaming around. 
An army of Dinosaurs would not stand much of a chance when faced with air strikes and tanks, if push really came to shove between the two species.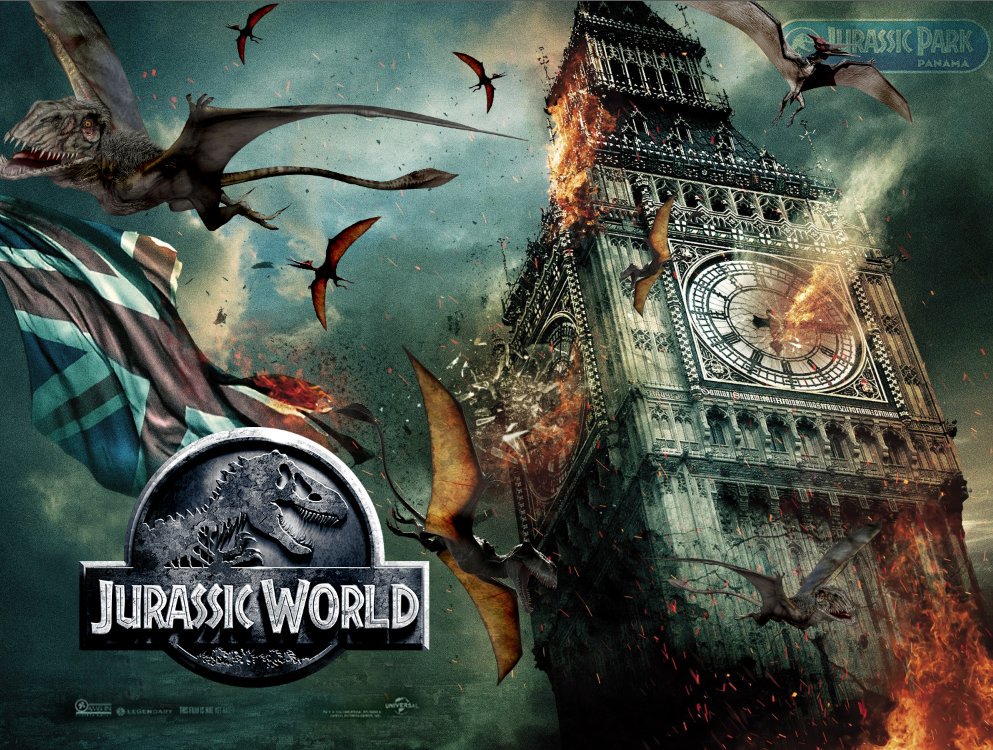 In a more realistic approach, the Dinosaurs will likely be used for military advancement as Hoskins and InGen ultimately wanted. It's very likely we could see Raptors and T-Rexes in a battle-type setting, dubbd by fans as a "Jurassic War", but again, taking the franchise to these lengths would ultimately drown out its mystery and every essense which made this franchise so iconic and wonderous in the first place.
Regardless of the validity of these claims, Jurassic World 2 is happening, filming will begin next year, it will release in theaters on June 22nd, 2018 and Life will Find a Way.
Find and share news like this with other Jurassic Park fans in the newly updated Jurassic World Dominion forum! The Jurassic World Dominion forum is an online community dedicated to nothing but Jurassic Park and Jurassic World fan discussions! Don't be a lurker, join the JP fan community today!
Written by Chris
Published on 2016-03-22 19:06:43
Get Your Own Custom Jurassic Park & Jurassic World merchandise!
Excited for Jurassic World Dominion? Why not upgrade your Jurassic collections by adding new, custom clothing, mugs, phone cases and more! Whether you want to represent the Raptor Squad or protect Dinosaur rights, there's more than enough options to choose from in the Jurassic World Merchandise Store! Choose your favorites and order today!
About Jurassic World 3 / Jurassic World Dominion
The official Jurassic World Dominion release date is June 10th, 2022.
Jurassic World Dominion (2022) is the third film in the Universal Pictures Jurassic World movie trilogy and is the sequel to Jurassic World: Fallen Kingdom. For more on Jurassic World Dominion including its plot synopsis, cast and character lineup, trailer and other information, visit the About Jurassic World Dominion movie page!
Stay up to date with the latest news on Colin Trevorrow's Jurassic World Dominion movie by liking us on Facebook and by following us on Twitter and Instagram!