Tonight we share another tid bit of Jurassic World's plot. However we will refrain from explicit details as to not ruin the viewer experience as we're just as much fans as our readers. But we will tease some pretty exciting and nostalgic plot elements which will be seen in Jurassic World next summer.
Tonight we are pleased to reveal that the original visitor center from Jurassic Park will make an appearance in Jurassic World - and no, not a "new one", the original one, in addition to the newly built "Jurassic World" theme park, which director Colin Trevorrow recently confirmed. Without naming names, two characters find themselves lost in the dense jungles of Isla Nublar and discover the run-down remains of John Hammond's Jurassic Park. There, a series of thrilling events take place which lead to some pretty awesome action sequences (which were describedto us by our reliable source).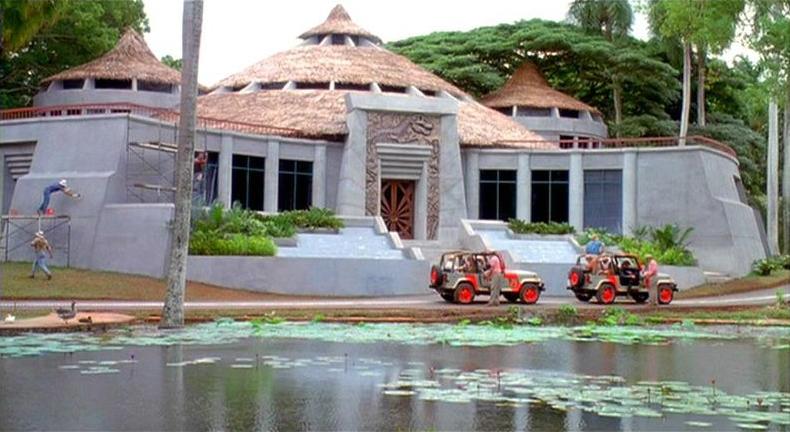 This is not meant to spoil any aspect of the film, but instead to get die hard fans of the franchise excited and a bit nostalgic. Jurassic World is in great hands, and Colin Trevorrow knows exactly what he's doing. This film will deliver on every level and will leave both average moviegoers and fans alike, feeling satisfied.
Be sure to check back often this weekend as we'll also be describing what the mysterious D-Rex looks like. All verified information, provided exclusively to Scified and JurassicWorld-Movie.com! So keep an eye out for that!
Until then, Jurassic World hits theaters June 12th, 2015. You can keep up to date with the latest news here!
Find and share news like this with other Jurassic Park fans in the newly updated Jurassic World Dominion forum! The Jurassic World Dominion forum is an online community dedicated to nothing but Jurassic Park and Jurassic World fan discussions! Don't be a lurker, join the JP fan community today!
Written by Chris
Published on 2014-05-29 19:57:38
Get Your Own Custom Jurassic Park & Jurassic World merchandise!
Excited for Jurassic World Dominion? Why not upgrade your Jurassic collections by adding new, custom clothing, mugs, phone cases and more! Whether you want to represent the Raptor Squad or protect Dinosaur rights, there's more than enough options to choose from in the Jurassic World Merchandise Store! Choose your favorites and order today!
About Jurassic World 3 / Jurassic World Dominion
The official Jurassic World Dominion release date is June 10th, 2022.
Jurassic World Dominion (2022) is the third film in the Universal Pictures Jurassic World movie trilogy and is the sequel to Jurassic World: Fallen Kingdom. For more on Jurassic World Dominion including its plot synopsis, cast and character lineup, trailer and other information, visit the About Jurassic World Dominion movie page!
Stay up to date with the latest news on Colin Trevorrow's Jurassic World Dominion movie by liking us on Facebook and by following us on Twitter and Instagram!