A Theory on the Evolution of Tyrannosaurus rex
9,976 Views
10 Replies
Add A Reply
Forum Topic
Allosaurus
Member
4115 XP
Jun-30-2017 2:19 PM
Hello there. A few days ago, I read an interesting article stating that Tarbosaurus and/or Zhuchengtyrannus crossed a land-bridge from Asia to North America and evolved into the Tyrant King of the Dinosaurs, Tyrannosaurus rex (link: https://www.livescience.com/23868-tyrannosaurus-rex-facts.html). Today, I am going to share my thoughts on this theory, and evidence that both supports and opposes it. Let's start with the supporting evidence.
T.rex is strikingly similar to T.bataar and Z.magnus. All three are similar in size and shape, with Tarbosaurus originally being named Tyrannosaurus bataar. In addition, a dorsal spine from Zhuchengtyrannus was similar in size to one from Sue, the largest and most complete Tyrannosaurus specimen.
However, there is evidence that goes against this theory. For instance, T.bataar and T.rex have several difference in the structures of their skulls.
Notice the differences in the shapes of the skulls of T.bataar (left) and T.rex (right). Tarbosaurus has a more slender and narrow skull, while Tyrannosaurus has a wider and more robust skull. This, however, is not the only evidence that stands in the way of the theory.
Here's another example...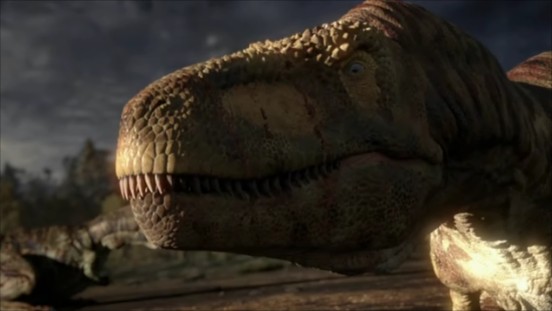 Daspletosaurus horneri/torosus
Daspletosaurus is often looked at as the evolutionary forerunner to Tyrannosaurus rex. Unlike its contemporary cousins Albertosaurus sarcophagus and Gorgosaurus libratus, which were more lightly built, for speed, Daspletosaurus was more bulkier and heavily built, similar to Tyrannosaurus. Here is a size comparison between Daspletosaurus and T.rex:
Note that D.torosus is closer to T.rex in size than G.libratus or A.sarcophagus. Daspletosaurus, however, is not the only Tyrannosaur that disproves the theory that Tarbosaurus/Zhuchengtyrannus evolved into Tyrannosaurus...
Enter Lythronax argestes.
Lythronax was a genus of coelurosaurian theropod dinosaur from Late Cretaceous Utah, living about 80 million years ago, alongside the ceratopsid Diabloceratops. Here's a size comparison between L.argestes and D.torosus:
Despite being smaller than Daspletosaurus, Lythronax is very similar in bone structure to its larger descendant. Yes, I said descendant. I think that L.argestes is the ancestor of D.torosus due to their similar builds. The two were separated by five-million years, which was likely enough time for Lythronax to evolve into Daspletosaurus. Now, let's compare Lythronax to Tyrannosaurus.
Despite being dwarfed by its much-larger relative, L.argestes and T.rex are similar in structure. This hints at a possible ancestry from Lythronax to Tyrannosaurus.
Personally, I disagree with the theory that T.bataar/Z.magnus crossed a land-bridge from Asia to North America and evolved into T.rex. I think that Lythronax argestes evolved into Daspletosaurus horneri/torosus, which in-turn gave rise to the Tyrant King of the Dinosaurs, Tyrannosaurus rex. But hey, those are just my thoughts on this theory. But feel free to leave your take on this theory in the comments below!
"Part of the journey is the end..."
10 Responses to A Theory on the Evolution of Tyrannosaurus rex
Add A Reply