Albertosaurus vs. Deltadromeus
4,412 Views
17 Replies
Add A Reply
Forum Topic
Compsognathus
Member
0 XP
Mar-28-2014 5:36 AM
Albertosaurus vs. Deltadromeus
Albertosaurus sarcophagus
Length: 33 feet (10 meters)
Weight: 3 tons
Era: Late Cretaceous
Location: North America
These carnivores live in family groups of up to five members. They have a warm and fuzzy coat of feathers and are found mainly in the northern mountain range, where they live together with Cryolophosaurus and Yutyrannus. They aren't built as robust as their close cousins, but due to their light build and their unusually strong hindlimbs they are exceptional sprinters. They even rival some of the Ornithomimids on the island. Their arms on the other hand are very small and barely usable, but their ultimate weapons are their jaws. Like all Tyrannosaurids, they have a very impressive bite. Their average bite force is anywhere between 1 and 3 tons.
Deltadromeus agilis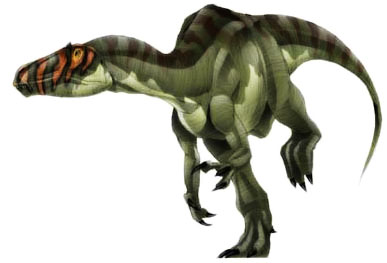 Length: 25 feet (7.5 meters)
Weight: 1.5 tons
Era: Mid Cretaceous
Location: North Africa
Deltadromeus are very fast and have a lot of endurance. Their jaws aren't very strong, but their teeth can cause large blood loss, their arms have three fingers with large claws which can rip open any hide and they can easily shatter bones and teeth with their powerful kicks. They are sometimes found in pairs, but usually live alone. They are mainly ambush hunters and hunt for Hadrosaurs, which they outrun, and Ornthomimids, which they chase until their prey is too exhausted to run away any further.
Fight!
A male Deltadromeus is sitting in a bush. He hasn't eaten anything for almost four weeks and is ready to attack anything and anyone. In front of him are two Albertosaurus. One male and one female. They have a nest set up with six eggs in it. The male stays back and waits near the nest, while the female goes away to hunt.
The male senses something and looks around cautiously. He can't see anything, but he can definitely smell something. He decides to ignore it until it either retreats or shows itself. He looks back to the nest and at that moment the Deltadromeus strikes.
He runs towards a rock next to the Albertosaurus. The tyrannosaur hears his footsteps and turns around, but before he can react, the Deltadromeus runs up the rock and jumps towards the Albertosaurus at full speed. The Deltadromeus is a bit too high to hit the Albertosaurus and so the Tyrannosaur thinks he's safe, but he underestimates the Deltadromeus.
In mid-air, the Allosaur kicks at the Albertosaurus' face as hard as he can. He lands quite a way away from his target and stumbles around a bit before focusing again. He turns around and looks at the Albertosaurus. It lies on the floor and isn't breathing, no wonder since half of his skull was kicked away.
The Deltadromeus disembowels the dead Albertosaurus and starts eating. He shoves his snout in between two ribs to get some of the intestines. He realizes that his snout is too big and struggles to get back out. Suddenly he feels a horrible pain in his neck. He screams into the body of the male Albertosaurus and manages to get his head out after violently struggling around.
He also get's out of the jaws of whatever was biting him. He jumps away and then takes a good look at his opponent. It's the female Albertosaurus and mate of the Albertosaurus he just killed. Blood is dripping from her teeth and her eyes are filled with anger and hatred.
She roars and instantly charges at the Deltadromeus. She hold's her head low and hit's the Deltadromeus which didn't react in time. She quickly jerks her head up and jumps a little while doing so. The much smaller Deltadromeus is tossed into the air and falls back down after almost three seconds. Every part of his body, which isn't numb, hurt's like hell.
He tries to stand up, but the female head butts him and shoves him for several metres until she pushes him into a tree and grabs his neck in her jaws. She swings him around wildly and then tosses him into another tree. The Deltadromeus falls to the ground and whimpers one last time before his eyes close. The female stares at him for several more minutes and then releases an ear splitting roar, but she doesn't know yet what she attracted by doing so...
Winner: Albertosaurus sarcophagus
The winner was pretty obvious and the fight was a bit short, but I didn't want her to be too wounded for her next fight.

Keep in mind that many people have died for their beliefs; it's actually quite common. The real courage is in living and suffering for what you believe in. -Brom-
17 Responses to Albertosaurus vs. Deltadromeus
Add A Reply