Top 10 Favourite Dinosaurs
13,410 Views
35 Replies
Add A Reply
Forum Topic
Allosaurus
Member
4115 XP
Apr-21-2017 6:58 PM
10. Ankylosaurus magniventris
Kicking off our list, we have a magnificent herbivorous dinosaur that could give a T.rex a run for its money. As a kid, seeing an animal distantly related to Stegosaurus that lived with Tyrannosaurus made me go "Whoa!"
9. Mapusaurus roseae
This is mostly due to the fact that Planet Dinosaur is one of my favourite documentaries. Due to research, I was disappointed to hear that Giganotosaurus was found in a separate formation from Argentinosaurus. But then, I found out about Rose's earth lizard--a pack-hunting Carcharodontosaurid that took on the largest dinosaur of all time. The fact that this thing could even tackle Argentinosaurus is impressive, and it quickly became one of my all-time favourites. And then, there's the character Earth, from the The End series. God I love him.
8. Albertosaurus sarcophagus
One of my favourites as a kid. It's basically a scaled-down T.rex that's built for speed. My affinity for Albertosaurus sarcophagus comes from the fact that it was the first of the Tyrannosauridae other than Tyrannosaurus rex that I knew. The idea of a smaller, slimmer, faster T.rex fascinated me, and Albertosaurus got me interested in other Tyrannosaurids such as Gorgosaurus and Daspletosaurus.
7. Ceratosaurus nasicornis
This one is because of nostalgia. When Dinosaurs Roamed America caught my attention of this creature, and I was amazed by its sleek build, long arms, and crests on its head.
6. Saurophaganax maximus
As a kid, I always thought that Allosaurus was the top predator of Late Jurassic North America. But then, I discover this bad boy--the lizard-eating master itself, Saurophaganax maximus. It's basically an A.fragilis on steroids, with some estimates putting it at longer lengths than T.rex.
5. Dakotaraptor steini
Essentially a slightly smaller Utahraptor, this beast is on my list because it is the closest real dinosaur to the Jurassic Park Velociraptor. And yes, it had feathers. This dinosaur is a recent discovery, and I have loved it ever since I first heard about it. It is the second-largest Dromaeosaurid, exceeded only by the next entry on this list, Utahraptor. It also lived in Hell Creek 66 million years ago, so a Jurassic Park-style fight between a pack of Dakotaraptor and a T.rex may very well have happened in real-life! If you don't like Dakotaraptor, you have something wrong with you. No, I'm serious, go get that checked out.Dakotaraptor is freaking badass.
4. Utahraptor ostrommaysorum
You can only imagine how disappointed I was to find out that Velociraptor was not a man-sized murderer--it was merely a turkey-sized predator exaggerated by Jurassic Park. But then I find out about Utahraptor, the largest and most badass Dromaeosaurid. As a kid, my classmates loved Velociraptor, but I chose Utahraptor as the quintessential raptor. The largest Dromaeosaurid, Utahraptor was essentially a ground hawk that would make a polar bear run. While most of its relatives were built for speed,Utahraptor was more robust, and designed to be a fighter, contributing to its occupation of the largest Dromaeosaurid.
3. Triceratops prorsus
One of the most iconic dinosaurs of all time, Triceratops has only increased in badassery over the years. I love it for how iconic it is, and for being one of the herbivores that can give a T.rex a run for its money, and even kill it, as shown in The Truth About Killer Dinosaurs.
2. Spinosaurus aegyptiacus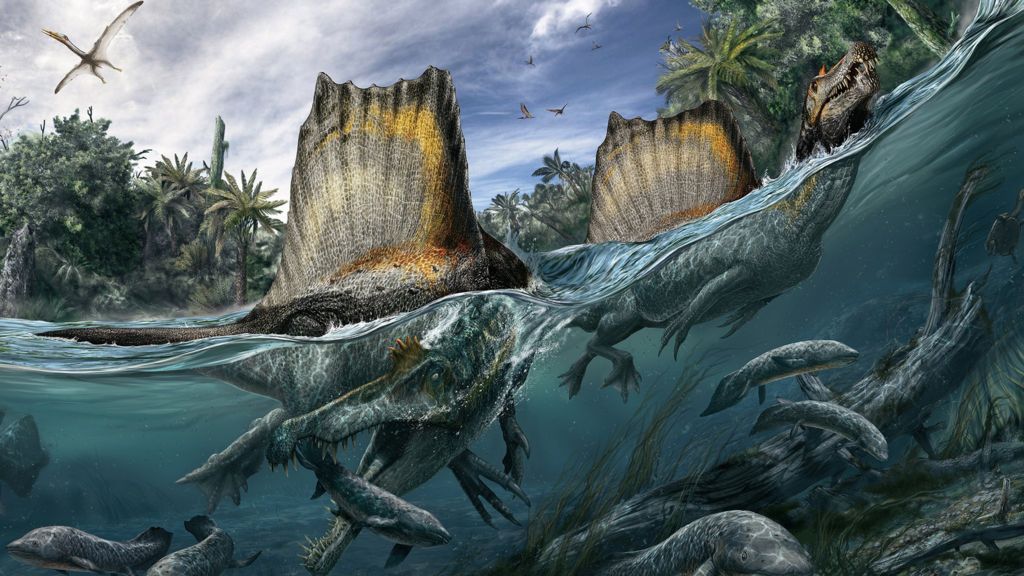 I was one of the many people that got off to a bad start after that infamous fight scene in Jurassic Park III. However, I realized that it was Jack Horner's fault for being the mind behind the scene, and I have hated him ever since. Back on topic, Spinosaurus is a very cool dinosaur, being one of the piscivorous dinosaurs. Its sail, although a hinderance, was magnificent and beautiful. Years after I saw JPIII, this guy got me back into dinosaurs twice. The first was when I lost interest in them after Jurassic Park III, but seeing Spinosaurus in Planet Dinosaur revived my love for these animals. Again, I left dinosaurs when the Walking With Dinosaurs movie came along, but in 2014, the quadrupedal reconstruction of S.aegyptiacus caught my eye. I was fascinated by this bizarre animal, and although it would stand little chance against Carcharodontosaurus, it shot up my list. The current reconstruction of Spinosaurus is quite fascinating, reminding me of a sea dragon. I find this to make it very cool and fascinating, but ultimately, it stands no chance against childhood nostalgia...
1. Tyrannosaurus rex
Yes, I know this is cliche. Yes, I know the most popular dinosaur of all time is also my all-time favourite. So why is this dinky-armed (I am fully aware that its arms are actually very powerful), dumb (I know it's intelligent), slow (its top speed was 25 MPH, pretty average, not overly bad) big-headed attention-whore Number 1? Because I know, based on extensive knowledge and research, that Tyrannosaurus rex, is the most powerful terrestrial predator of all time. Why? It was smarter than other megatheropods likeGiganotosaurus. It had acute senses that could allow it to find a meaty meal in the form of an unfortunateTriceratops or Edmontosaurus. It had powerful binocular vision that gave it depth perception, take thatJurassic Park (jk, you're still my favorite movie). It had ridiculous endurance and was designed to rise from whatever nature threw at it. It had the strongest bite force of any terrestrial animal, LIVING OR EXTINCT. Does that not terrify you? Why, this beast, worthy of the title of "tyrant lizard king" hunted in packs, just like its ancestors, such as Albertosaurus. So T.rex is worthy of its fame and popularity. It was also the first dinosaur I ever knew, and this was the dinosaur I primarily grew up with. Walking With Dinosaurs Episode 6 was one of the reasons I love this animal. It showed T.rex as an animal instead of a monster. And then there's When Dinosaurs Roamed America, which also helped show Tyrannosaurus as an animal. But above all, there was Jurassic Park. The movie got me into dinosaurs as a whole, and one of the key reasons was Rexy. The moment where she threw the Big One into the skeleton and roared in triumph was when I knew that this movie, and dinosaur, would be with me for life. Thank you, Rexy, for being the pinnacle of my childhood. When I was growing up, Giganotosaurus was commonly looked at as the deadliest theropod, but because of my sentimental attachment to T.rex, I stood by the tyrant lizard. And for that, Tyrannosaurus rex was, is, and forever will be my all-time favourite dinosaur, DROP THAT MIC, REXY! *queue the motherfucking T.rex song*
"Part of the journey is the end..."
35 Responses to Top 10 Favourite Dinosaurs
Add A Reply